Attractions
Royal Entertainment
Each day of the Festival, the Queen and her court make an appearance on the grounds to partake in the many entertainments planned for her. A grand parade runs throughout Warwick with spectacle and pageantry!
 


The Joust
The Joust is both a means of battle and a form of entertainment enjoyed by the Nobility and commoners alike. Knights are pitted against one another in a series of mounted and armoured combats that are fought as contests. Through a series of battles, only one prevails through to the final round. He who is the last man standing or holds the best record throughout each round is declared the winner.
The Joust A'plaisance Tournament is a series of elimination jousts. An overall winner is determined after the last battle is fought and all other opponents have been eliminated.
The Grand Joust is defined by its extravagance. It is a true spectacle, designed to thrill and delight those who witness the tournament. Many years of ceremony and chivalric conduct serve as the foundation of the Joust. Knights fight for the affections of the Queen and eligible Wenches; a Knight would battle in honor of his lady and could win her courtship if he wins the Joust.
Who will reign victorious and impress the fair Queen? Join us for the tournament of the century!
 


The Wyldewood Players
---
Step through the gates of beautiful Warwick and you will soon find yourself greeted by the town's jubilant citizens, who will warmly welcome you as one of their own.
One of the features that distinguish the Sterling Renaissance Festival from other Renaissance Festivals is its full-time professional corps of actors, selected from a national audition tour.  Weeks of training and rehearsal go into the varied and colorful Denizens of Warwick you see around you.
The Wyldewood Players is the oldest full-time professional acting troupe of any Renaissance Festival, and the inspiration behind many interactive entertainment groups in major theme parks across the country.
In addition to the many Lane Encounters you'll experience, The Wyldewood Players present stage performances throughout the day. Some of the scheduled shows of the WWP are listed here, the rest are unannounced events that happen all day throughout the Village of Warwick, so you'll just have to keep an eye out.
 
---
Stage Antics Of The Wyldewood Players
---
The Warwick Inn
The Warwick Inn is a three-story interactive stage with all-day antics, improv, slapstick humor, and secret love. The bottom floor is a bakery and scullery where the baker and his son try to get a day's work done without trouble from their two beautiful but wily scullery wenches. Above, the Inn houses the Lord Mayor's family and a host of not-so-welcome guests from the town's citizenry, as well as a few unwanted rogues. The result is a "faulty tower" of fun and mayhem. Inside the Inn is an intimate sit-down pub with an interior balcony open to the second floor, where unscheduled antics take place all day. On the Bakery side, you'll find these hysterical adventures.
The Guild of Warwickshire Curmudgeons
The serious elders of Warwickshire air their trivial grievances as is their duty as official curmudgeons, and everyone agrees to be disagreeable. 
Confections of Chaos
Love heats up as the dough rises. The first family of food in Warwickshire try to keep their house in order and still do the baking.
Breaking Bread
Bakers at the Warwick Inn are tying themselves into knots to feed the town.
A Most Improper Wake
An infamous Warwickshirian has passed on, and the townspeople do their best to honor a person of questionable honor, then things really start to go wrong.
---
Royal Performances
---
Her Majesty's Daily Diversion
Her Majesty and her courtiers amuse themselves and you with games and courtly revels.
A Courtly Duel
The court demonstrates their dazzling dueling abilities with rapiers, chivalry, and wit!
Final Pub Song
Join the Queen and all the villagers at the Festival Stage as they raise a glass in song. Don't miss this rousing and heart-warming tribute to a day of fellowship and adventure. It is a MUST before you go!
---
The Village Middens
---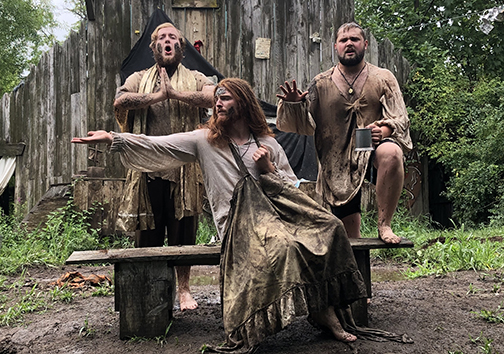 The Muddy Middens
Three village beggars are up to muddy mayhem as they plumb the depths of the town "middens." More than just a mud pit, the Middens is a dump and a sewer! Every town has one, and everything foul flows to it.
An Oracle of Offal
Muddy fun. Men of the court and a handful of brave town's folk seek the mysteries hidden within the town Midden.
The Cesspool of Ignominy
Pirates and town folk find shame and treasure at the town middens.
---
Village Revels & Villany
---
Barber Surgeon's Clinic
The town's beloved barber-surgeon, whose motto is, "Better bled than dead" is giving a clinic. Townspeople take their lives in their hand to stay healthy.
Public Execution
Public executions are a fine way of bringing the community together, or so sayeth the Earl. But is anyone really willing to do it?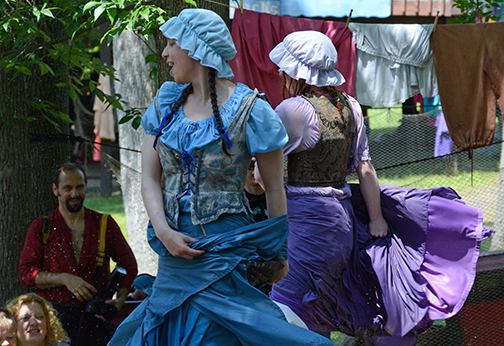 The Washer Pit
Love, lye, and laundry at the town wash pit! The washer wenches and their washer men teach customers how to treat each other as they air their dirty laundry. Be sure to arrive clean, or you may get washed!
Rogues' Revels
Marauding corsairs and rogues gather to drink and sing their favorite sea shanties. Aaargh!
Town Revels
Merrymakers of the shire halt their work to tip a few ales, sing and carouse.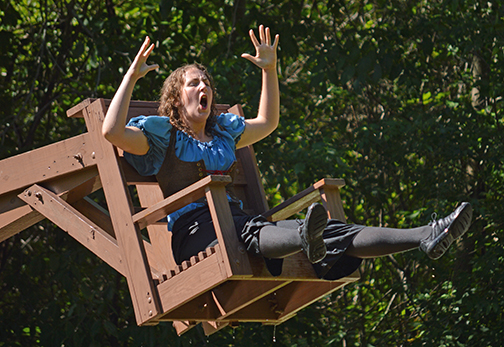 Trial & Dunke
The constabulary mete out justice in the briny depths of the Frogge Pond. The accused are placed in the dunking chair to be dunked at the Earl's pleasure. Is he fair or foul? You be the judge.
Pirate Parley
Attracted, no doubt, by the only body of water in Warwick, a band of Pirates takes hold of the Frogge Pond. 


Stage Performers
---
We boast a top-notch lineup of Renaissance style acts, variety performers, and circus arts.  Thrill to feats of daring and skill, laugh to uproarious comedy and storytelling, and marvel at the pageantry and beauty brought forth for the day's enjoyment.
 
---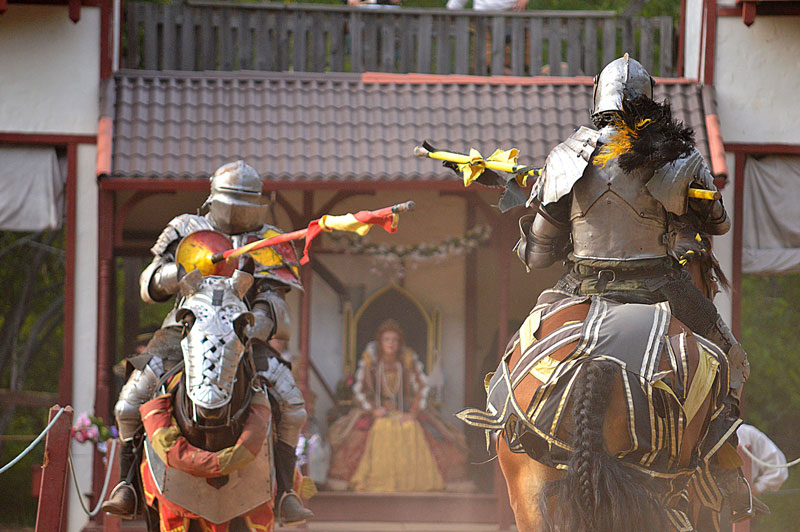 Warhorse Productions
An exciting recreation of a 16th Century tournament Joust A'plaisance. This is a live, full-armored joust and swordplay performance. Don't miss this keystone event of the festival!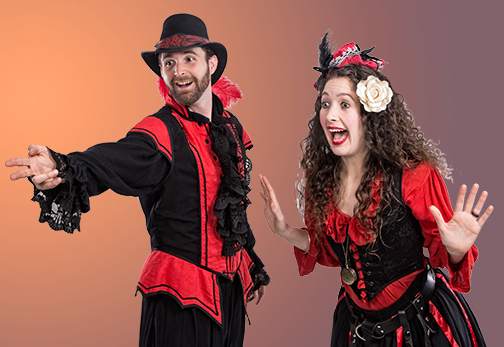 Judas & Magnolia
NEW this year! Judas & Magnolia are a husband and wife team of award-winning escape artists. Through comedy, suspense, and abundant audience participation the pair work to tell fantastical narratives and bring crowds to the edge of their seats with death-defying stunts.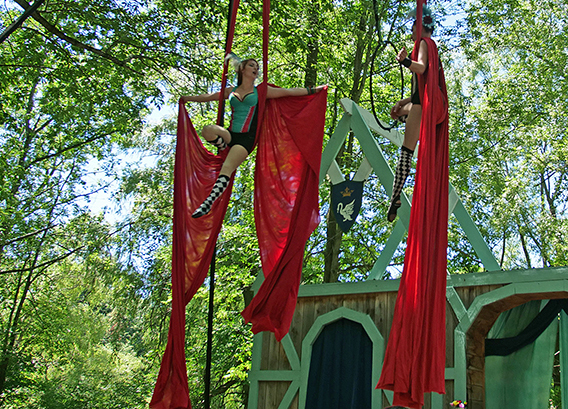 Cirqa Brava
Cirqa Brava's high-flying acrobats mesmerize & delight with their one-of-a-kind aerial & circus spectacle! Blending razor-sharp comedy with breathtaking beauty, these ladies' antics will turn your world upside down, inside out, and leaves you tangled in laughter!
Theatre of Fools
The Wacky Chicken Show! Inspired by Shakespeare's cock-combed fool, Theatre of Fools brings you on a hysterical joyride of absurd theatrics.
The Da Vinci Brothers Comedy Operas
A unique, dynamic, and very funny show, where the audience become the stars. They become the orchestra, the sound effects, and act out the story together. Sensational family fun!
The Harmless Danger Juggling Show
A funny juggling show with serious consequences. Dangerously daring deeds of dexterity done dumbly.
*Performing 7/4-8/9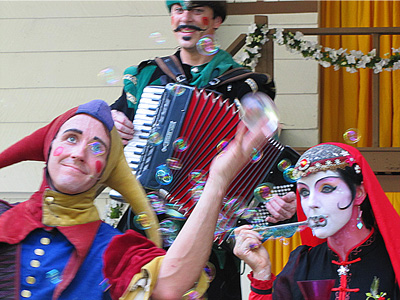 Clan Tynker Circus
Clan Tynker is a circus family who travel their performances all over the world, delighting young and old alike. This must-see show includes incredible skills, unforgettable characters, and FIRE! All set to live music you will be humming the whole way home.
*Performing 7/4-8/2
The Vodca Family
Unique dancing and gypsy fun!
*Performing 8/8-8/16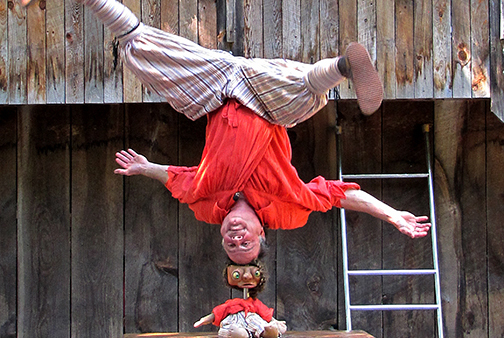 Daniel, Duke Of Danger
A series of poor decisions resulting in comic acrobatics. Daniel will attempt to hurt himself in very creative ways. Rarely does he succeed.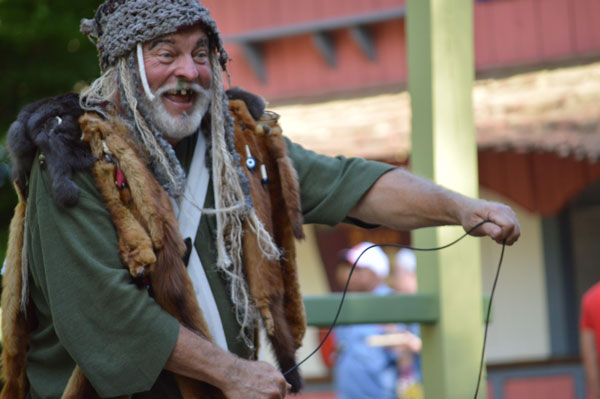 Emry's Fleet
The Big Rat Show is comedy Noir. Her Majesty has declared the big Rat Show to be a Royal Shift of Whit!
Giacomo The Jester
Magic, rope walking and extremely obnoxious behavior.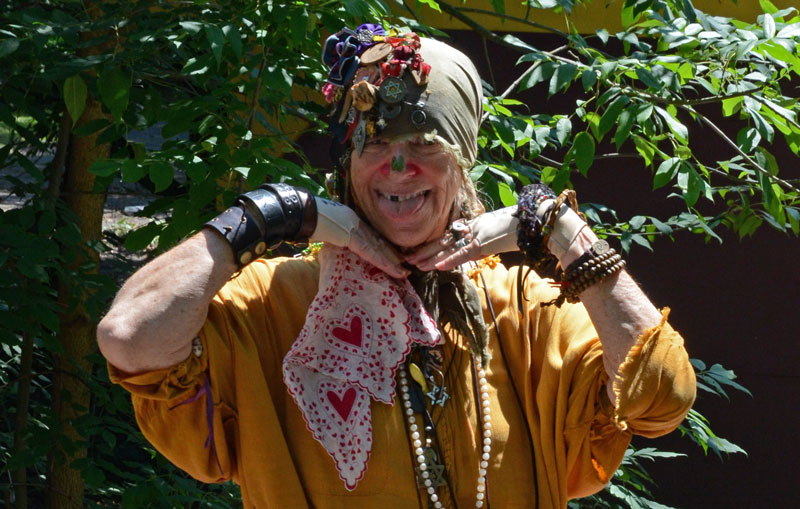 Looney Lucy
Like Venus, but with arms.
Lenny Burrows, Master Of Revels
Your favorite reveler is back on the streets and performing on the boards. Anything can happen, merrymaking will happen.
*Performing 7/4-7/5 & 8/15-8/16
Captain Henry Duckworth
A cook, a captain, an honest sailor (Yargh!). This land-locked pirate shares the wisdom coined through a life on the high seas.
*Performing 7/18-7/19 & 7/25-7/26
Borerraig Irregulars
Great Highland Bagpipes and drums, Scottish Highland dance!  Also, a full crew of Highland heavy athletic players will perform Highland Games demonstrations on the jousting field. 
*Performing on Highland Fling Weekend only – August 1st-2nd
---
On the Bawdy Side, strong language and themes not recommended for the little ones
---
The Wildly Inappropriate Poetry Of Arthur Greenleaf Holmes…
Scandalous. Licentious. Madly impolitic...and riotously funny. Take a stroll down literature's seamy back alleys with England's own libertine laureate. These are the poems that inspired Emily Dickinson to exclaim, "Screw it...I'm staying in my room."
Filthy Irish Stories
Vulgar and hilarious stories told by "Churchyard" O'Shea, notorious highway robber. Irish myths and legends, violence, blasphemy, VERY bad language. What's not to like? For the love of all that is holy, please don't bring kids.


Music
---
The streets are filled with merry tunes from the many musicians and minstrels of Warwick! Dancing, singing, and revelry are abundant at the festival; whether you fancy a raucous pub song or a jolly toe-tapping melody, our skilled musicians of different genres will be entertaining the masses all festival long.
---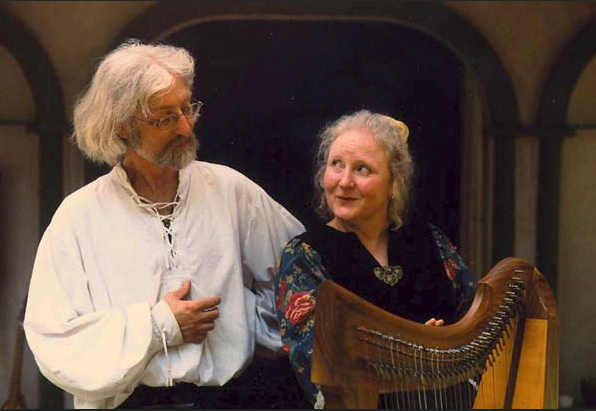 Bells & Motley Olden Music,
Dance, & Storytelling
Known widely for their glorious renditions of early music on authentic instruments; including Celtic harp, hammered dulcimer, fiddles, bagpiper, and hurdy-gurdy. Join the celebration with a participatory dance session on the festival stage at noon. No experience needed!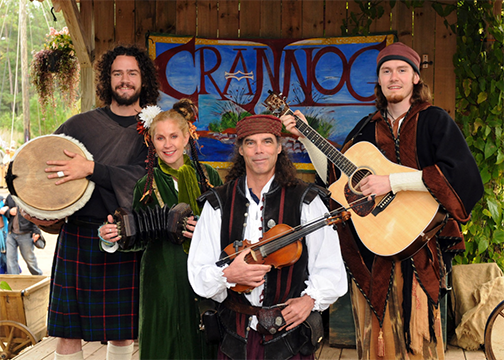 Crannog
NEW this year! Traditional songs of good cheer and melancholy from Ireland, Scotland, and England featuring concertina, fiddle, viola, guitar, and voices. 
*Performing 7/4-8/9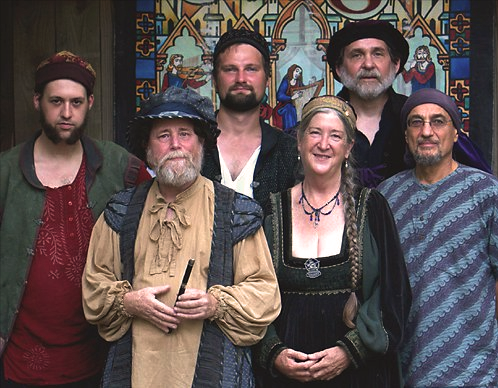 Cantiga
Plays ancient airs and dances featuring harp viola da gamba, and violin. A free-spirited playfulness is characteristic of Cantiga's sounds, bringing the ancient songs to life for a modern audience.
Empty Hats
Celtic music "unplugged but wired."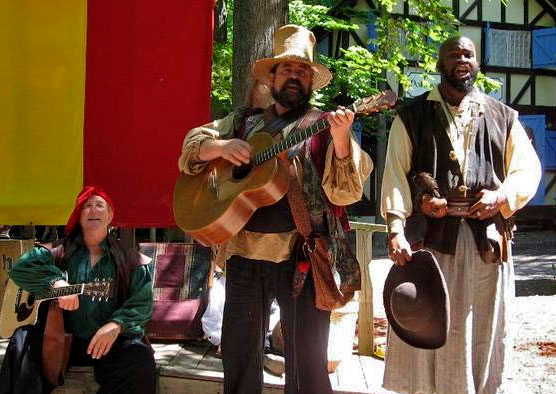 Jim Hancock & Friends
A celebration of songs, encompassing maritime, love, drinking, and the best that Jim can find. He plays with everyone and helps lead the band at the Pub Sing. Come to any of the Revels, Jim's Sets, and the Final Pub Sing and sing along!
Lord Cailean Carmichael
Lord Carmichael is the Scottish emissary to Her Majesty Elizabeth's Court. He can be found playing the bodhran or other instruments at any opportunity.
Merry Mischief
Toe-tapping sailing, drinking, and drowning music, sprinkled with lilting lover songs. Pairs well with ale and wine slushies.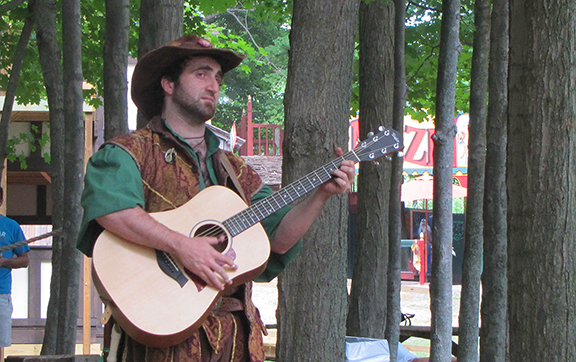 Randal Piper
A musical glimpse into the spontaneous mind of chaos.
Randal Piper
A musical glimpse into the spontaneous mind of chaos.
The Harper & The Minstrel
Authentic Medieval and Renaissance music sung and played on over a dozen traditional instruments including harps, flutes, recorders, dulcimers, psaltery, and viola de gamba.
*Performing 8/15-8/16
Duke Norsworthy
A roving musician who is likely to show up just about anywhere! playing bodhran, flute, guitar, mandolin, and more.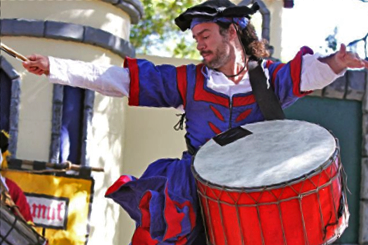 Wolgemut
Experience ancient bagpipes and bombastic drums! Early music for modern minds.